Crime has touched all of us and we're committed to doing something about it.
Please join us to help make our communities safer!
For more than 40 years, 88-CRIME Inc. has served as a conduit between Southern Arizona communities and many Federal, state and local law enforcement agencies to help prevent and solve crimes. Sponsored by the Pima County Attorney's Office, the 88-CRIME tip line enables members of the public to provide tips to law enforcement in a safe and anonymous manner, and even receive rewards when their tips lead to the arrest of criminals. 88-CRIME Inc. sponsors an annual law enforcement appreciation dinner to thank our local heroes. We are excited to reemerge and once again show our appreciation for our Southern Arizona law enforcement partners, who perhaps now more than ever, need to see how much we value the profound services they provide for all of our communities. Please show your support by making a tax exempt donation or by attending the event.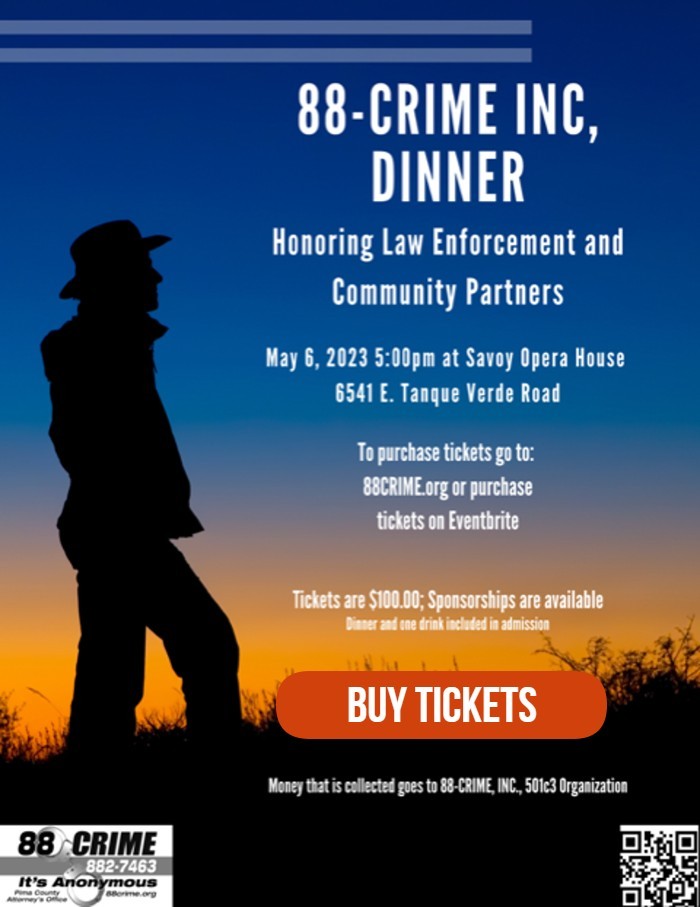 Photos of 2022 88-CRIME Annual Dinner

Thank you for making our 88-CRIME Inc., Law Enforcement Appreciation Dinner a success. As always, we can't thank Law Enforcement enough for everything that they do each and every day!